Small Water Bottling Equipment
Norland International offers a diverse portfolio of small water bottling equipment for single-use containers, generally referred to as PET bottles. Small single-use water bottles are not only a staple in many parts of the world but continue to have a small environmental footprint. Read more about the global need for water here.
Norland International offers both fully automated water equipment solutions and manual options depending on the bottling line. Norland's bottling equipment, PET Blow Molders, and other water-filling machines are suitable for any size of bottled water operation. Sold singularly or as a complete plant, these water systems are built for easy operation and are energy-efficient. Our experienced team can point you in the right direction, depending on your space, budget, and business model. Whether you need to blow bottles, a complete water bottling system or water bottle packaging, trust us as your water bottle manufacturing partner.
Explore Water Bottling Equipment Options
Triumph Bottling Systems
All-in-One Bottling System
Bottle rinsing machine

,

bottle filling machine

, and

bottle capping machine

all-in-one

Can utilize 28 mm, 28 mm child-proof, or 38 mm caps
HEPA filter comes standard on all bottling lines for sale
Built-in clean room
Speed & Efficiency
Automatic Bottle Filler for up to 2,000 – 5,000 BPH (based on 16.9 oz bottle)
Rinsing and spraying consume less than 1 GPM of water
Triumph Ultra uses 18 rinse valves, 18 fill heads, and 6 cap heads
Triumph Classic uses 8 rinse valves, 8 fill heads, and 4 cap heads
Learn More About Triumph Bottling Systems
Freedom Series Blow Molders
Compact Design
Three or five cavity chamber
Infrared Heat Tunnel System
HEPA filter comes standard
Four heating zones
Efficient System
Produces 3,000 to 5,000 BPH

350 ml – 1.5 liter bottle size                                       

PLC controlled system            

Preform elevator system
Learn More About Freedom Series Blow Molders
SpectraPak Bottling Lines
The SpectraPak bottle filling machine fills up to 17 round 1 Gallon or 5.0 liter small plastic water bottles per minute. Norland designed this bottle filler machine to run multiple shifts with little operator expertise. The bottle rinse station provides superior water bottle cleaning as the bottles move through this complete line and end with a reliable water bottle capper. The state-of-the-art design, and modular components, provide maximum performance and economy for perfect bottled water packaging.
Complete Design
Up to 1,000 x 1 Gallon or 5.0 liter BPH

Simple to Operate

Manual or Automatic bottle loading options
Complete Inline Machines Include:
BR3000 Rinser for b

ottle rinsing

BF5000 XLT Filler for bottle filling

Automatic Capping Machine

Feed Table and conveyors          
Potential Water Treatment Equipment:
Spring Water Treatment System

Water Storage Tanks

Ozone System
Liberty150 Automatic Bottle Unscrambler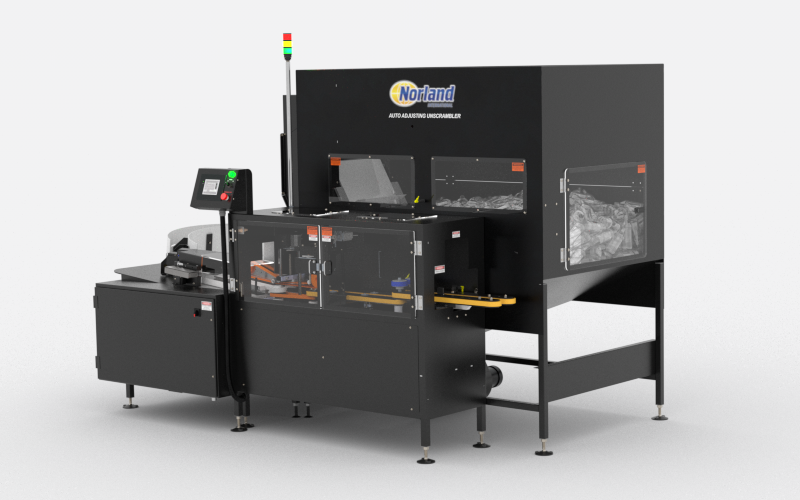 Convenient Design
Compatible with low to high-speed bottling lines

Large bottle hopper with easy access

Stack lighting to show operating conditions

Non-lubricating drive motors

Electronic variable speed controls
Dependable Operation
Smooth, quiet operation with speeds up to 150 BPM (9,000 BPH)

Few moving parts for minimum maintenance

Electronic bottle counter and production reporting

Automatic size adjustment (no changeover)
Learn More About Liberty150 Automatic Bottle Unscramblers
ShrinkPak
Efficient Design
Package up to 330 cases per hour

PLC interface display with digital controls

Manual or automatic bottle-loading options

Can package virtually any shape or size of package

Polyethylene film seals package from debris
Learn More About ShrinkPak